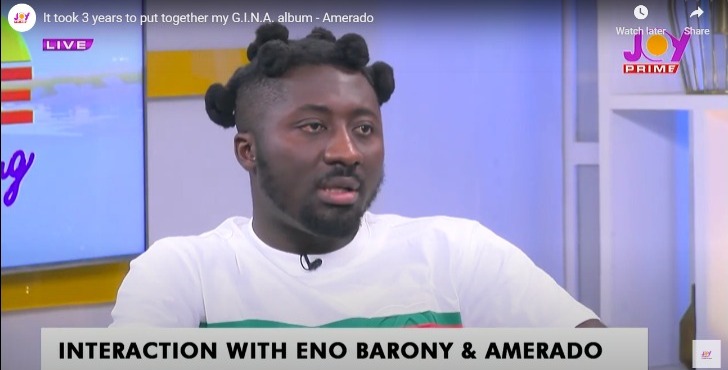 Ghanaian rapper, Amerado-born Derrick Sarfo Kantanka, has revealed that it took close to 3 years to put together his new album titled G.I.N.A. (God Is Never Asleep).
In an interview on Prime Morning on Friday, the rapper recounted how significant the album is to him as it is dedicated to his mother.
"It's been almost 3 years now since I started putting together the album. I did over 50 songs but selected 10 for the album."
He added that "it talks about my struggles, my hustle, and to honor my mom before she's late. My mom is called Gina, and I want to tell people how I love my mom and how I'm connected to God. I did most of the songs on the album to honor God and appreciate my mom."
He also indicated that his mother lost faith in his music career, thinking he would become a drug addict.
According to Amerado, creating an album for his mother has always been a major goal to make her proud.
"My mom didn't really believe in me when I started doing music. She thought I would become a 'raster' and be going about smoking, drinking, and all that, and I told her that I'm going to prove her wrong. Now she has this, and she's very happy," he said.
The rapper is confident in himself, believing that rap is not just about granting interviews, but has to be put on record.
He noted that replying to some social media critiques helped clarify certain misconceptions.
Amerado believes there is improvement in the Ghanaian music industry, but he thinks "we can do better."