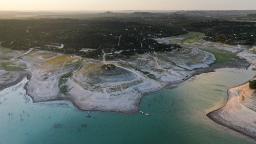 Here's what you need to know to Get Up to Speed and On with Your Day.
(You can get "5 Things You Need to Know Today" delivered to your inbox daily.
Sign up here
.)
1. Extreme weather
The official start of summer this week has been marked by
triple-digit temperatures
across much of the southern US. On Wednesday, more than 20 million Americans across 16 states were under heat alerts and some cities shattered decades-old records. Macon, Georgia, reached 105 degrees, beating the previous record of 101 degrees set in 1925. New heat records were also set in Alabama, Tennessee and North Carolina. And unfortunately, meteorologists say there's no relief in sight. The heat in the South and the Plains is expected to
continue to build through the weekend
with much of the region expected to set more records in the coming days, the National Weather Service said. On the other hand,
severe storms
are expected to dump several inches of rain in some parts of the Southwest today. 
2. January 6
3. Gun laws
4. Uvalde
5. Coronavirus
BREAKFAST BROWSE
Eagle appears to clutch baby hawk for dinner, then decides to adopt it
Westminster Dog Show: The winning pooch
Kraft Macaroni and Cheese is changing its name
A third 'My Big Fat Greek Wedding' movie is finally in production
The world's most livable cities for 2022
TODAY'S NUMBER
1,000+
TODAY'S QUOTE
"You know what's worse than high inflation and low unemployment? It's high inflation with a recession and millions of people out of work. I hope you consider that before you drive this economy off a cliff."
TODAY'S WEATHER
AND FINALLY
Incredible Origami